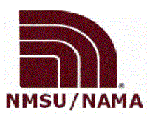 NMSU Student Chapter
Who We Are
We are a group of NMSU students from all majors who are interested in agri-business marketing, personal and professional growth, hard work, and lots of fun! We work closely with faculty mentors from the Department of Agricultural Economics and Agricultural Business to hone our marketing skills and prepare for professional positions.
NMSU NAMA Officers | 2021 - 2022 Academic Year
Advisor: Chaddy Robinson
Financial Advisor: Dr. Jay Lillywhite
President: Lexi Montgomery
Treasurer: Savannah Dimas
Secretary: Tyler Peraza
Vice President of Marketing: Morgan Owen
Vice President of Membership: Kylie Pruitt
Vice President of Professional Development: Matthew Martinez
ACES Representatives: TBD
What We Do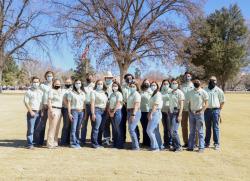 NMSU NAMA was created to offer students a club with both professional development and social opportunities. We host regular professional events such as mock job interviews and etiquette dinners, alongside meetings with industry leaders to foster career interest.
Besides our professional aspect, NAMA has monthly socials where our members can interact, network, and have fun. In the past, we have had watermelon tailgates, ugly sweater parties, and cookie decorating contests. Additionally, the NAMA Team hosts our fall Mud Volleyball tournament fundraiser and our spring Annual NAMA Golf Tournament at the NMSU golf course (save the date for March 5th, 2022!)
NAMA is also involved in ACES activities such as the annual ACES Week where we participate in dodgeball, a talent show, fundraising, and many other events!
In addition to the club, NAMA also has a Marketing Team that competes yearly at the National Agri-Marketing Association National Convention. The location of this competition usually alternates between San Diego and Kansas City. In 2010, NMSU NAMA won the national competition with our Specialized Saddle product.
More recently, NMSU NAMA faced the challenges of doing market research and completing product development amidst the uncertainty of COVID-19 during the 2020-2021 academic year. Nevertheless, our team persisted and made history by competing in the first completely virtual National Agri-Marketing Association Convention, presenting our product via the Zoom platform. Our product, Curious Heifer, is a shelf-stable, aseptic flavored milk product that seeks to challenge the traditional perception of dairy and combat declining fluid milk consumption.
We partnered with Freanna Farms, LLC, in Clovis, NM to bring consumers a new "Curiously Moo-tritious" beverage while honoring time-old traditions of dairy production - our team prevailed in April of 2021, placing 2nd at the National level.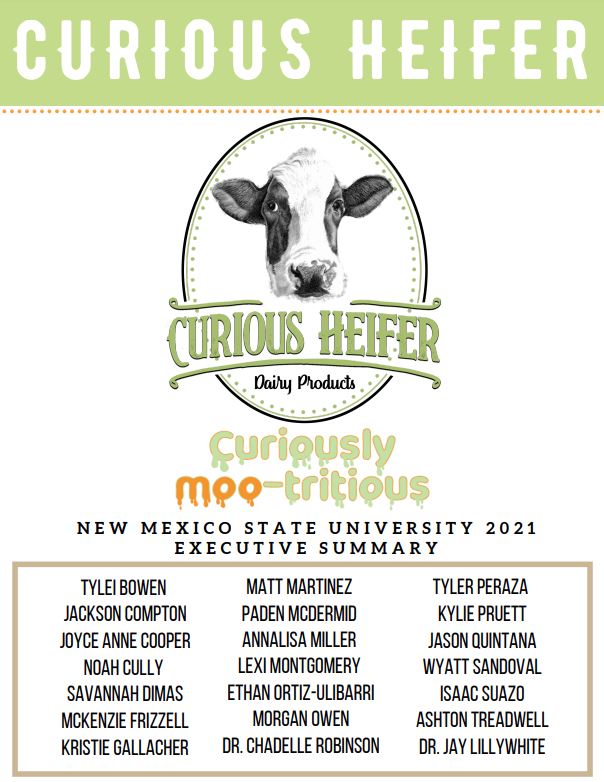 Why Join Us?
Learn first-hand from professionals in marketing, advertising, communications, promotion, sales, and public relations about the various career opportunities available in Agri-marketing. Elevate your position as a student to select a career that best fits your interests and talents.

Develop valuable personal contacts and working relations between peers, colleagues, and Agri-marketing professionals. These contacts provide access to internships, co-op programs, job interviews, referrals, business recommendations and career opportunities.

Provide meaningful opportunities for students to practice their managerial skills (planning, organizing, directing, coordinating and controlling) and to demonstrate their leadership abilities.

Attend monthly professional chapter meetings, seminars and social events while assisting various professional chapter chairs in planning and implementing chapter projects. These meetings provide students the opportunity to become highly visible as prospects for employment after graduation.

Attend the annual Agri-Marketing Conference and participate in activities including the National Marketing Competition, the newly added National Sales competition, the Outstanding Student Chapter Competition and ABEF Scholarship Awards. Attending the conference provides students with an opportunity to establish personal contacts with marketing professionals throughout the United States and Canada. These contacts are valuable sources for career opportunities.

Make the transition from being a student to becoming a business professional!
Interested in becoming a NAMA member? Download and complete the membership form below or contact us today!
For More Information
We'd love to talk with you about NAMA. Please feel free to stop by our office at 377 Gerald Thomas Hall on campus or click Contact Us! To learn more about our parent organization, please visit the National Agri-Marketing Association. Also, follow us on Instagram at NewMexicoStateNama and Facebook at NMSU NAMA.